After Registration, students receive their Pre-Workshop Prep Guide, a 16 page PDF booklet featuring the following topics with colorful images and examples of:
Inspiration Boards
How to focus in on your intention for this specific project by gathering bits of color and design inspiration from the beauty around you.
Design Possibilities
Considering the direction of this specific project, will it be "Sweet & Simple", "Earthy & Organic", focus on a "Theme & Symbol" or highlight a "Message or Mantra"?
Frame Silhouettes
What shape do you want your frame to take on? Long and lean, round and curvy, geometric, representational, architectural? Consider the possibilities!
Surface Designs
Create a series of surface designs (or doodles, if that approach is less intimidating!) over your chosen frame silhouette.
Paper Templates
Create a life size template of your final design.
Tesserae Palettes
Curate a collection of mosaic materials (your tesserae), inspired by your inspiration board, embracing the colors, textures and design theme that you are planning to use.
Tesserae Resources
My suggestions of places online to find these treasures for your unique creation.
Planning Edges
My students know this: Edges are always first. I explain why and how to plan for them.
Accent & Pattern Building Tesserae
Recommendations of specific materials to use for the foreground of your design.
Background & Filler Tesserae
Recommendations of specific materials to use for the background of your design.
Pre-Workshop Consultation with Sharra
A 30 minute private meeting reviewing your project plans. Before our meeting, you send in images of your prep work, questions you have and anything thing else you'd like. I spend 30 mins reviewing this info before our meeting so that I can be best prepared and efficient with my suggestions during our call. I will make specific recommendations on the materials and approach to your project.
Additional PDF resources are included with the Workshop Prep, such as:
Tools & Supplies Checklist:

Breaks down into each Phase, the supplies students will need.
Supplies & Quicklinks:
Lists has been created for each Phase of the class (five total) of everything you'd possibly need and a link to an example online where you can then purchase the item directly.
Week by Week Overview:
A detailed outline of the class agenda and a detailed overview of topics that will be covered.
Timeline & Schedule:
Breaks down when new each new Phase will be introduced and the webinar schedule.
How to Design and Transfer a Template
Use your template, which has been planned in advance during the Pre-Workshop Prep Phase.
Substrate Options
Optimal materials to build the frame with and what materials to avoid.
How to use a Jigsaw
What to look for in a jigsaw, why use a jigsaw vs other saws and safety.
How to Construct a Custom Lightweight Frame
Create a customized frame in any shape or size within 60-90 minutes.
Hanging Hardware Options
Simple, easy and clean hardware and what to use for large, heavy frames and panels.
How to Insert Hanging Hardware
Create a professional, finished look with this approach.
How to Add (amazingly strong!) Curls and Extensions
Create dramatic shapes by adding sculpted elements coming off of the frame.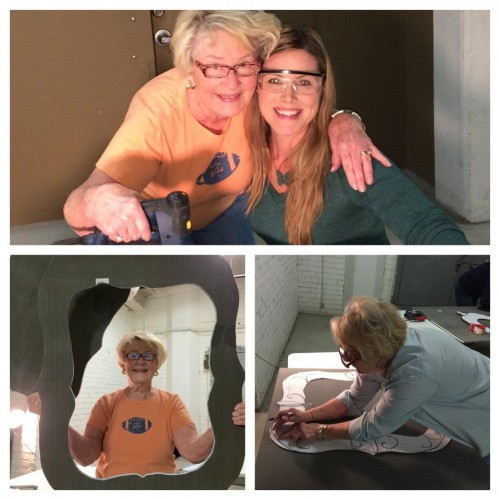 PHASE TWO: SCULPTING

In PHASE TWO, SCULPTING, we learn about my personal experiments and discoveries of adding sculpted Volume and Dimension and how to apply that to our frames.
I share how in 2006, I was commissioned to create my first ever sculpted mosaic mirror frame. I spent 100's of hours on this piece and I share all about the roller coaster of trials and errors of this first big sculpted project.
Also covered:
The Benefits of the Materials Recommended
I share the specific ingredients and how to use them with success. I also share which products I avoid.
How to Add Volume to the Surface
Add the Wow Factor to any two dimensional surface with this method. It is applicable to mirror frames and other surfaces as well.
How to Reinforce Curls & Extenders of the Frame
Add so much strength (but not bulk!) to the delicate sculpted elements extending off the frame that you can literally pick your frame up by them!
How to Add Sculpted Elements
Add other Three Dimensional accents to the frame.
*Phase One and Two can be realistically completed within a couple days time at the Online Student's own pace.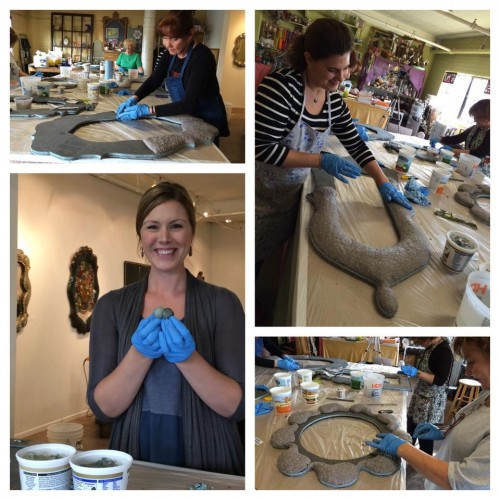 PHASE THREE: MOSAIC MAGIC

In PHASE THREE, MOSAIC MAGIC, we learn how to begin and complete the mosaic process. This is where all our hard work begins to sparkle- literally!
In this segment of the class we cover:
Mosaic Planning, Designing & Creating
How to map out your design, prepare your glass, tile and beads and where to start adhering them with intention and focus.
Design Inspiration
How to approach and use inspiration from the beauty around us in our work in effective ways.
Edges First
We begin with a simple goal of completing our frame's edges. I explain why this is so important and is the best place to start.
Background/Foreground Design
How to bring out your mosaic design and also use your background space in a complimentary and pleasing way.
Varying Heights/ Levels in Surface
How to navigate the tricky spots in a surface with different heights and also use tesserae of different thicknesses on the same surface.
Beads
How to best use beads with glass, tile and more.
Swirls

How to cut glass and master a key-stoned swirl.
Tips to Ensure Success
Avoiding Pitfalls
I share lots of my own personal challenges that came up in my first ever Sculpted Mosaic Mirror Frame and how I navigated my way through them.
PHASE FOUR

In PHASE FOUR, GROUTING AND FINISHING, we learn all about how to finish your Sculpted Mosaic Mirror Frame. We go in-depth and cover the following details.
Layering Materials:
Add onto the Existing Mosaic Surface
Why and When to Layer Materials
Best Adhesives for Layering
How to Grout:
Grouting Over Beads
Paint Over Grout
Using Paint as Grout
Coloring Grout
Not Grout at All
Finishing Steps:
Following the "Master Plan for Completion"
Finishing the backside of Frame
Finishing the inner Rim & Mirror Glass
Interior Mirror Glass:
Resources
Fitting the mirror into the Frame
Antiquing Mirror

Polishing/Cleaning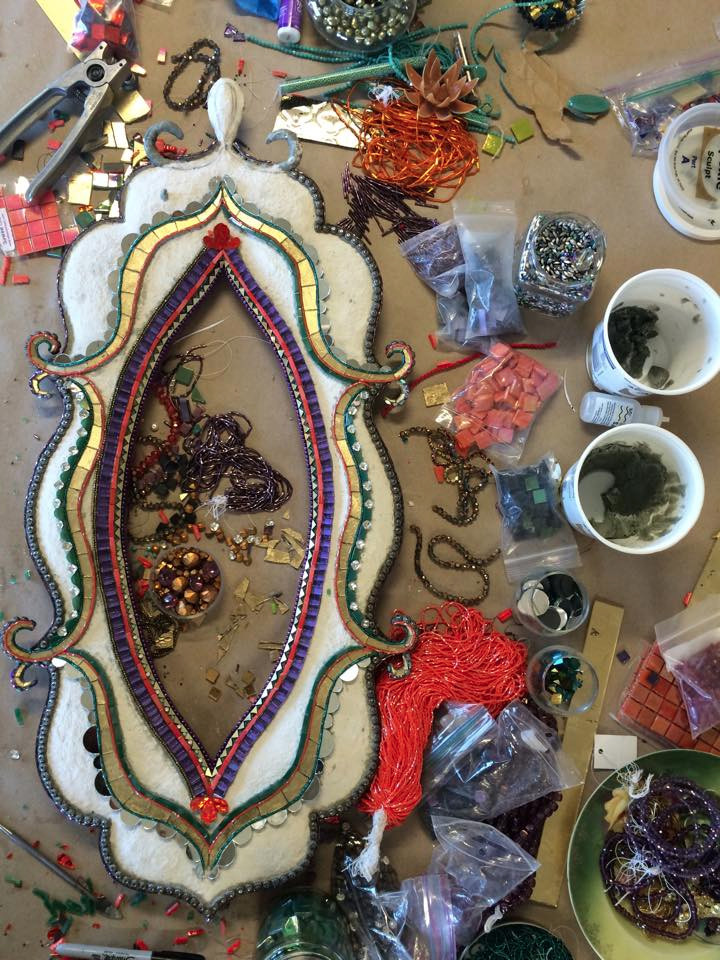 PHASE FIVE: MASTER PLANS

In PHASE FIVE, MASTER PLANS, we wrap up our class by reviewing all that we learned and then create a Master Plan for Completion.
In this final segment of the class, we address:
How To Finish:

Creating and Following you Master Plan
Options for Continued Support:
Final Consult with Sharra to review your project progress and Master Plan.
Private Facebook Group for Sculpted Mirror Students
Monthly Mosaic Group webinar with Sharra