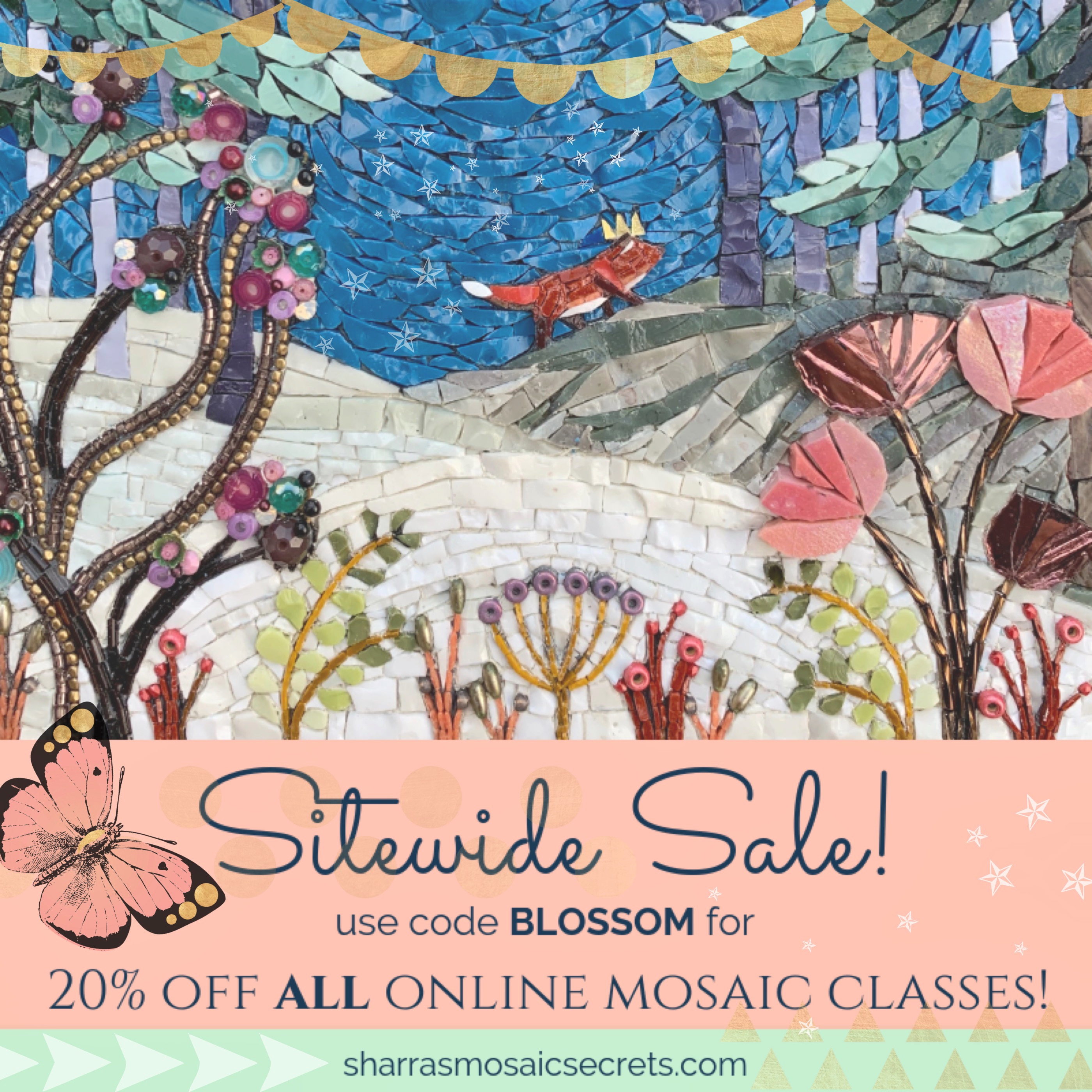 SPRING FLASH SALE EXTENDED THRU SUNDAY, APRIL 14TH!

Sharra Frank's Mixed Media Mosaic Resource Guide of Treasures, Collections, Findings and Jewels is a PDF download with 50 pages of visual samples, inspiration and product links. This resource is a must have companion in every mosaic artist's studio.
This is not only a guide but acts as a digital mentor with inspiration, direction and support.

If you are stuck in a rut or need to bring the WOW Factor into your piece, look to this guide.

Scan the list of possibilities provided as you begin any project and bring something new and exciting into it. Would your piece benefit from something metal, dimensional, interactive, organic, tubular, tapered, handmade or reflective? Review the 30 highlighted categories with specific options and sources provided to spark your ideas and inspiration.

Massive inspiration = creative surge!

In this guide are lists and links to all of my favorite product resources and more.

Also find my go to WOW Factor Formulas. These are specific combinations of materials and textures that harmonize and sing beautifully together.

If you are working on building up your personal mosaic supply inventory, this guide will help you identify your tastes and style. Find which materials you are drawn to, which colors speak to you and go for it.
A little of this and a little of that and soon you'll have a collection of beads, rhinestones, tile, found objects, glass, mirror and more to inspire you and spark joy through your mosaic making.
While putting this together, I wondered what it would have been like to have this guide when I first started making mosaics.

It would have been life changing!

LIFE CHANGING!

This resource guide will save you the HOURS and HOURS of searching and googling for the right thing and it will give you the confidence knowing that the materials that you are investing in work.

Class BONUS:

I have created secret facebook group for us! After registering, you will receive an invite link. In our group, we will share our collections, treasures, discoveries and more!

* Please note before purchasing that this is not an "how to" instructional (although there is some of that in regards to collecting and curating your supplies!) but a focused "what" and "where" guide to finding supplies and materials. Thank you!