More Than Just The Basics…
This class is more than just an introduction to mosaics. The information provided in this class can be applied to endless mosaic projects, not just windows and mirrors. This class gives you a strong foundation of skills and resources that will ensure success in future projects, and save you time and money.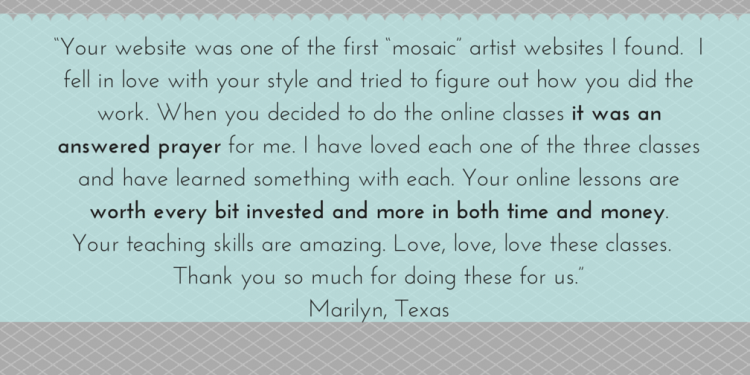 Connect With Other Students…
In addition to the class materials, I have also created a private Facebook group for my online students – an extra perk of taking the class. Nearly 100 students are interacting daily, sharing feedback, support and photos of their work in progress. They post links to new resources and materials they are discovering and pictures of exciting new storage options for their work spaces. It's so much fun!
Here's what makes this class unique:
For the Mosaic Window Hanging & Mirror Class I literally recorded myself, step by step, as I made the window hanging you see in the video above. Then I went back and voiced over exactly what I was doing, what tools I am using, what materials I'm using, and why. I take you step-by-step from preparing the base to designing the mosaic, adding tesserae, grouting and finishing the piece.
It is designed just like my studio classes. And it also gives you the tools, techniques and skills that you can apply to any mosaic project you might be inspired to try. And since it's an online course you can access these materials again and again. Try different styles, designs and techniques with each new piece.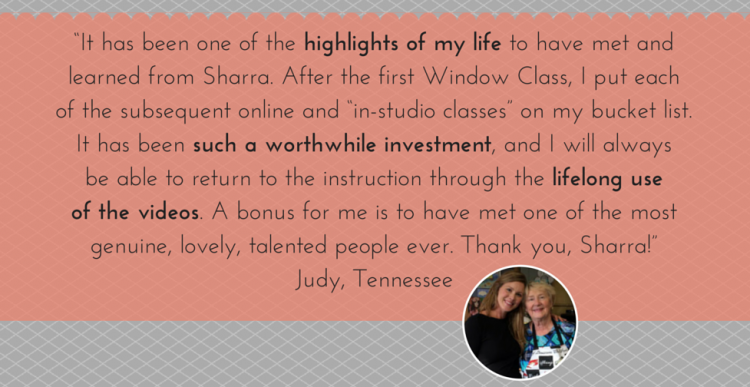 Trade Secrets…
Quite a few of the things that I'm going to show you in this class are what I consider to be true "trade secrets" including how to make painted tapestry glass, how to make gold leaf glass, how I design my mosaics, what tools I use (and don't use), and a whole lot more.
In fact, the course includes over thirty separate short videos, each of which will give you ideas, materials, tools, tips, tricks and techniques to apply to your next mosaic project.
How I Built My Career As A Mosaic Artist…
I built my career as a mosaic artist by spending several years and thousands of hours creating original mosaic pieces, teaching mosaics, taking private commissions, leading collaborative mosaic art installations and showing my work through juried exhibitions and open studio events. In the introductory video I show you how I was introduced to the world of mosaics and how my work evolved over time from simple glass-on-glass mosaic windows to mixed media, larger pieces and the incorporation of new and more advanced mosaic techniques.
It is my hope that this class, and the way it is presented, will inspire you to make not just one but many mosaics using different materials, bases and tools and techniques!