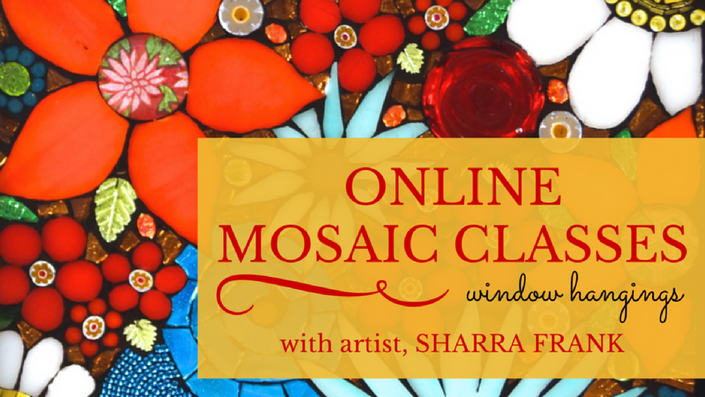 Mosaic Window Hanging Class
Beginning and Advanced Glass on Glass, Mixed Media Mosaic Technique
Watch Promo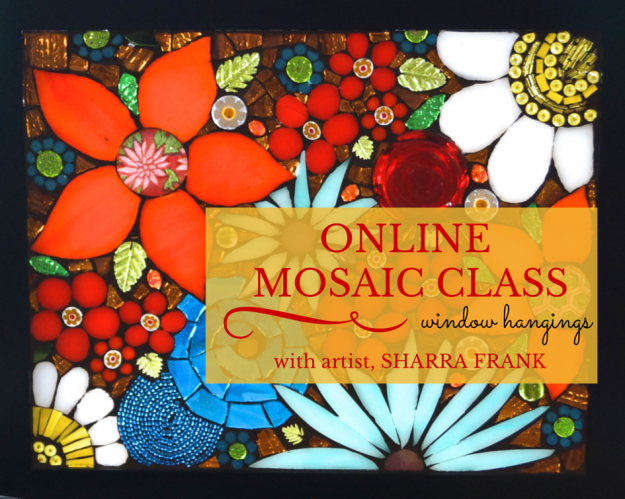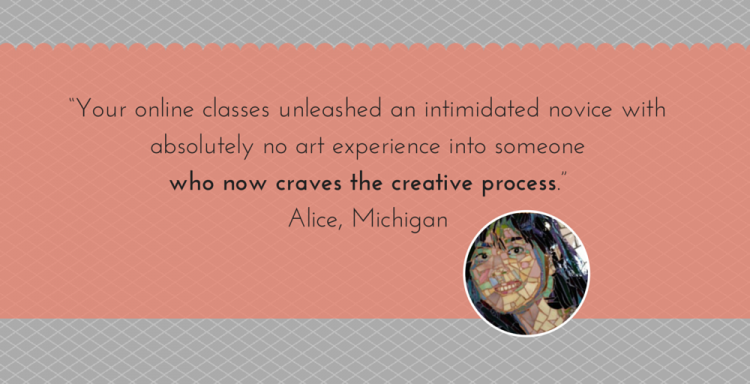 Since 2003, I've taught mosaics to thousands of students through my live studio and online classes. Before teaching online, I received emails from around the world asking for private Skype lessons or to just purchase the class handout- anything! So, in 2012, I went for it. I began offering the first ever online mosaic classes. I started with my Mosaic Window Hanging & Mirror Class– the most popular studio class I was offering at the time.
Since starting this online teaching venture, there are now hundreds of online students logging in from Australia, New Zealand, UK, Italy, Austria, Germany, California, Alaska, Texas, Minnesota, New York, Florida, Bermuda and everywhere in between! It's been inspiring, fulfilling and absolutely amazing. Students tell me again and again how excited they are to have access at all this information without having to book a flight and hotel! My hope for students is that they find inspiration and guidance here while diving into a new creative unknown with confidence, while discovering new skills and interests.

Your Instructor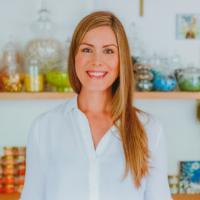 Sharra (share-ah) Frank is an established mosaic artist in Minneapolis, Minnesota. Her mosaic obsession began in 2000, while still an art student at the University of Minnesota. She worked from her kitchen table, creating small pieces to sell in local flower shops. With each small success her artistic vision grew and so did the scale and intricacy of her work. After making the leap to a private studio she continued creating the intricate, whimsical and inspiring mosaic mirrors and window hangings that are her signature. At the same time, she made the transition to full-time artist and never looked back. Sharra has several large-scale installations and murals throughout the Twin Cities area, has worked with high-end designers and clientele everywhere from Florida to California and has exhibited with the Mosaic Arts International and SOFA NY. She teaches beginning and advanced mosaic classes from her Minneapolis studio, online and around the US with mosaic educational organizations such the Society of American Mosaic Artists, the Institute of Mosaic Art.
View Sharra's full portfolio of mosaic artwork, commissions and public art at www.sharrafrank.com
Here are some mosaics made by past students: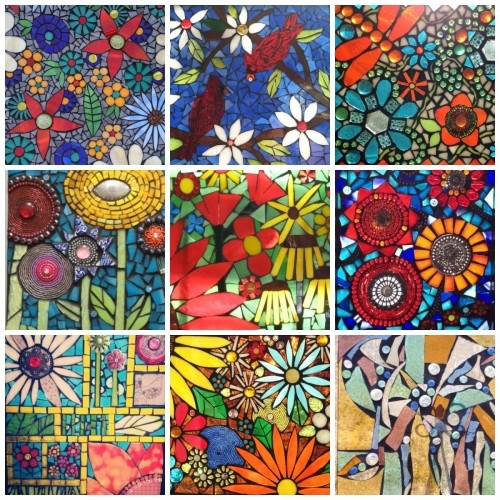 Top 10 Benefits – Mosaic Window Hanging & Mirror Class
Receive all the information you would get in my studio class and bonus specialty techniques.

Bird's eye view video footage of every material, tool and technique.

Review the 30+ video tutorials and class material any time and as many times as you'd like.

24/7 LIFETIME ACCESS to all class materials (this huge benefit has been updated since the class was first debuted, where it started out as One Year of access!)

An extensive 13 page Mosaic Supply and Resource Guide with links to the exact websites, brands, tools and materials that I recommend.

Create unique and one-of-a-kind gifts for your loved ones.

Join a private Facebook group of other students who are also taking the class. Share your progress and discoveries with each other!

All the information you learn in this class can be applied to any future mosaic project, not just Window Hangings and Mirrors.

Bonus emails from me on fun topics such as studio set-up (a kitchen table counts!) to design inspiration.

It's TONS of fun! Mosaics are very addictive.
Here's what some of my past students have had to say about the course: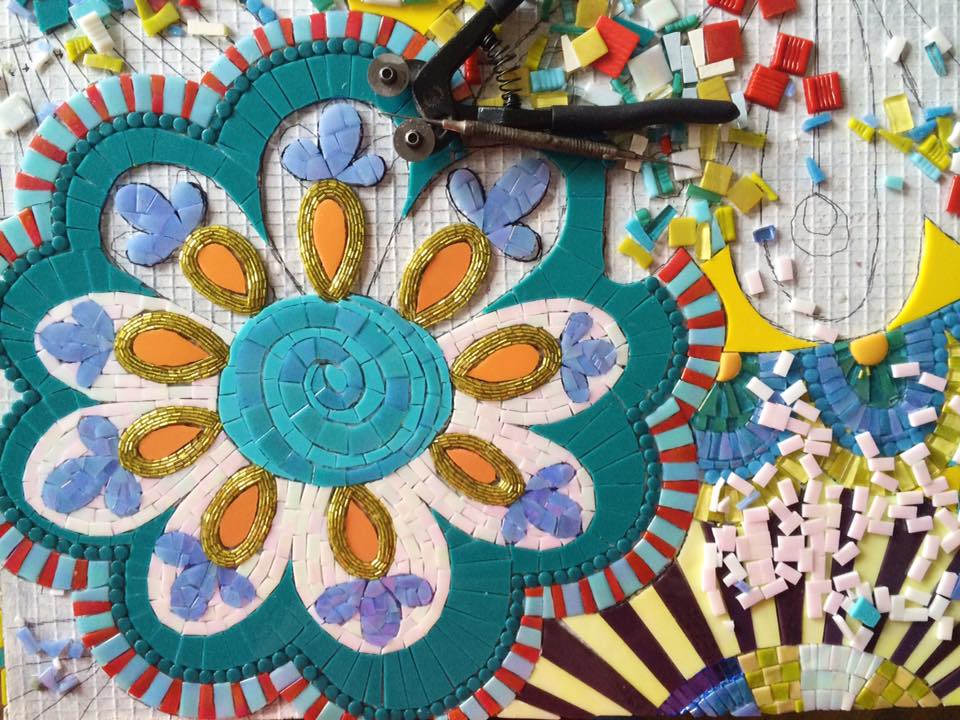 "Sharra, Love, love, love the latest lesson…..tho I have been doing the mosaics for several years I have picked up some great things from the lessons. You have helped make some of my problems have solutions. Thanks again for the online lessons." – Marilyn, Texas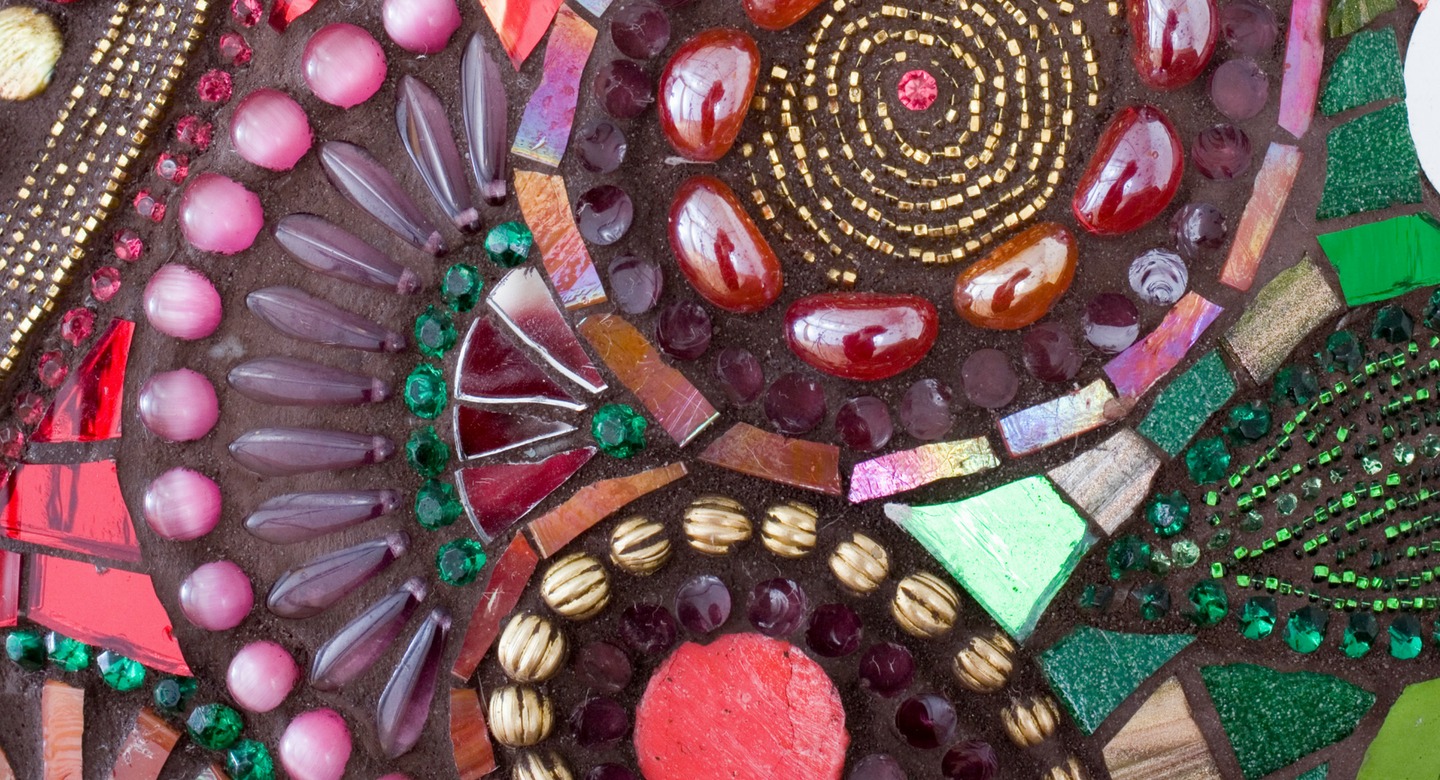 "Sharra, I'm having a blast with your course staying up way too late and I've picked up so many very useful things so far. I've always wanted to try paper and glass and now I know how! Thanks!" – Wendy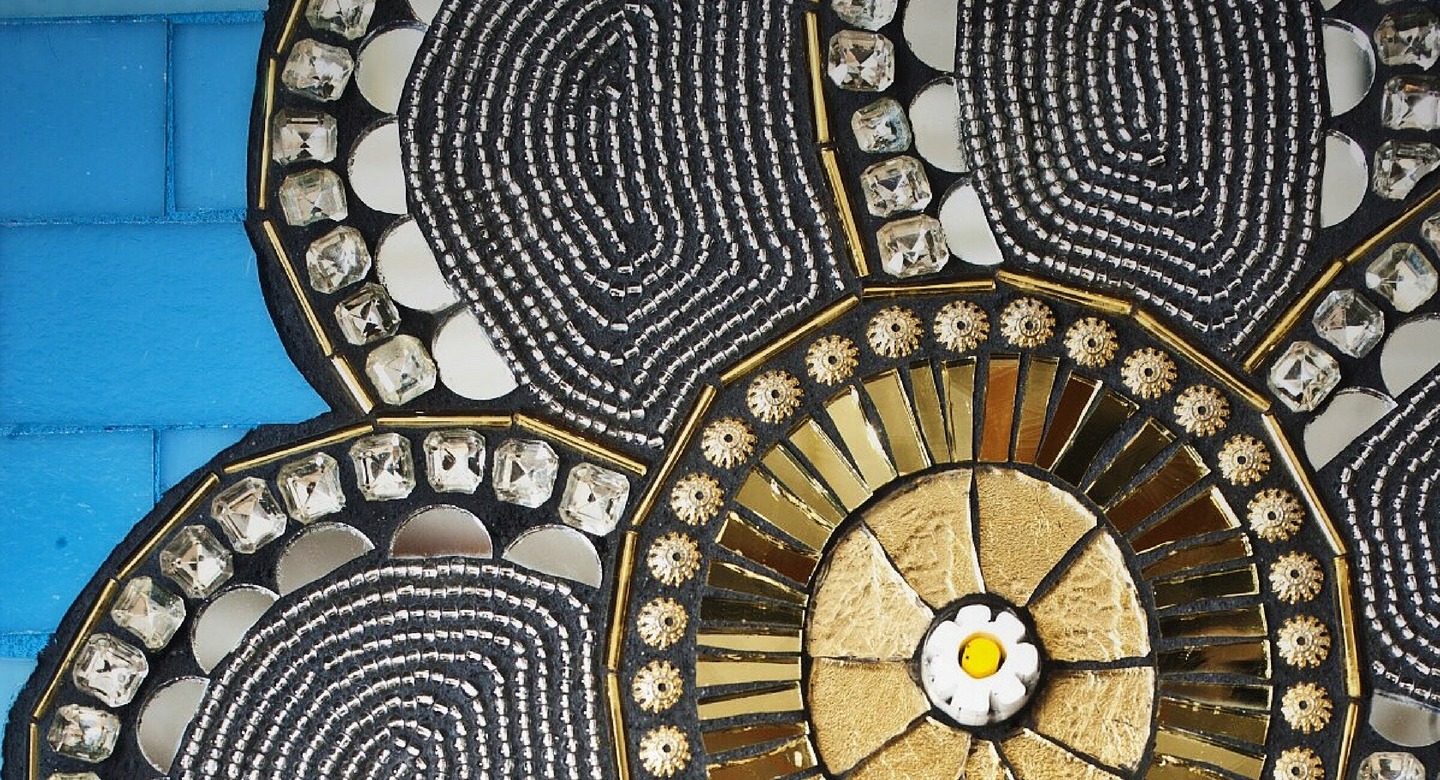 "I just wanted to say a huge thank you for your online mosaic course. You're a big inspiration to me and since March last year I've been busy trying to improve my skills using the valuable advice contained in your course. I've chosen just 4 photos that hopefully show my progression and you should see your wonderful influence in them too. I credit all my skills to yourself .You're a fabulous artist! Thank you so much!" – Amanda Castell, UK
Here's some more mosaic artwork made by my students!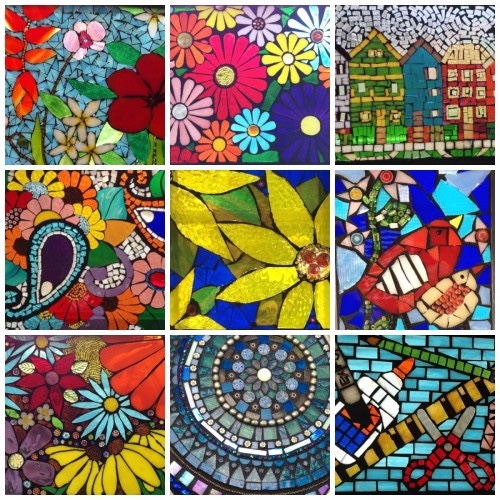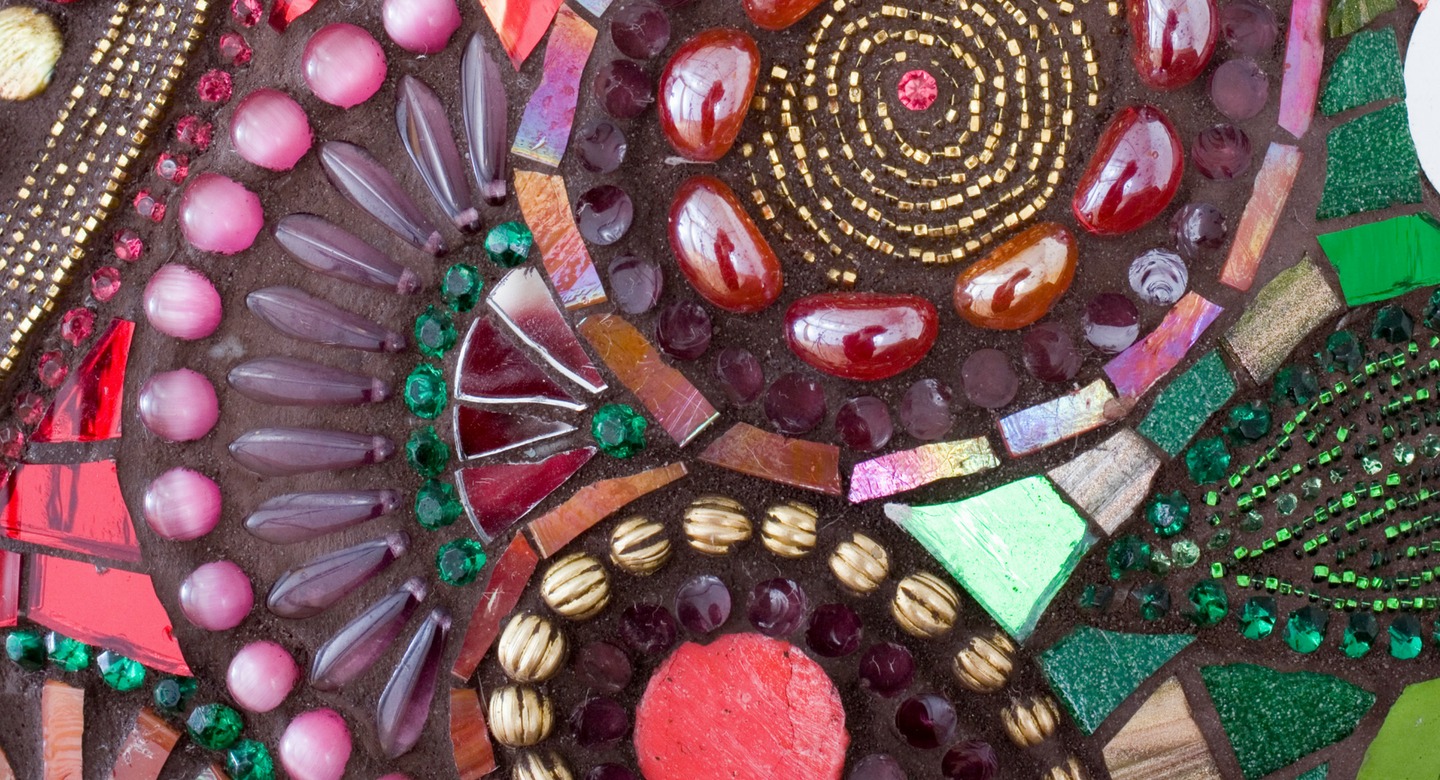 "Sharra, I just want to say, hello. I have devoured the videos!!! Today I watched 9 & 10. I am enjoying the videos and your instruction so much. I am going into my 4th year of mosaics and I love it more and more. This year I set a goal to attend a class……..somewhere..I searched the internet over and it seemed that the classes were far far from Birmingham. I found you one day on the internet and signed up for your newsletter and I thought…this is my class. Even though I spend a lot of time reading and studying the work of others and experimenting I wanted some instruction….

Well, I am excited, very excited to be apart of this class. WOW! I am also excited about the facebook opportunity for all taking this class…. ..I am eager to hear questions, answers and to see the work of others. I also like your daily emails….thanks!

Thank you for taking the time to put this together. I am sure it was very time consuming. I look forward to all ahead!
Loving it to pieces!"

– Paulette, Alabama
More Than Just The Basics…
This class is more than just an introduction to mosaics. The information provided in this class can be applied to endless mosaic projects, not just windows and mirrors. This class gives you a strong foundation of skills and resources that will ensure success in future projects, and save you time and money.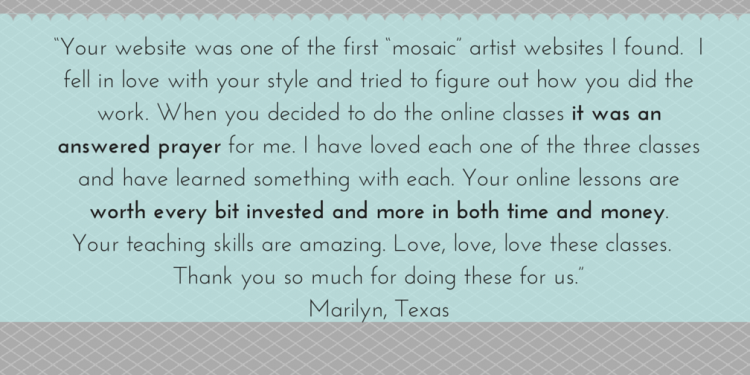 Connect With Other Students…
In addition to the class materials, I have also created a private Facebook group for my online students – an extra perk of taking the class. Nearly 100 students are interacting daily, sharing feedback, support and photos of their work in progress. They post links to new resources and materials they are discovering and pictures of exciting new storage options for their work spaces. It's so much fun!
Here's what makes this class unique:
For the Mosaic Window Hanging & Mirror Class I literally recorded myself, step by step, as I made the window hanging you see in the video above. Then I went back and voiced over exactly what I was doing, what tools I am using, what materials I'm using, and why. I take you step-by-step from preparing the base to designing the mosaic, adding tesserae, grouting and finishing the piece.
It is designed just like my studio classes. And it also gives you the tools, techniques and skills that you can apply to any mosaic project you might be inspired to try. And since it's an online course you can access these materials again and again. Try different styles, designs and techniques with each new piece.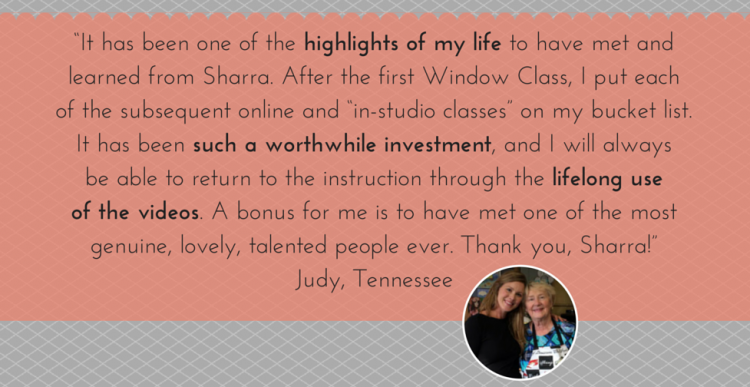 Trade Secrets…
Quite a few of the things that I'm going to show you in this class are what I consider to be true "trade secrets" including how to make painted tapestry glass, how to make gold leaf glass, how I design my mosaics, what tools I use (and don't use), and a whole lot more.
In fact, the course includes over thirty separate short videos, each of which will give you ideas, materials, tools, tips, tricks and techniques to apply to your next mosaic project.
How I Built My Career As A Mosaic Artist…
I built my career as a mosaic artist by spending several years and thousands of hours creating original mosaic pieces, teaching mosaics, taking private commissions, leading collaborative mosaic art installations and showing my work through juried exhibitions and open studio events. In the introductory video I show you how I was introduced to the world of mosaics and how my work evolved over time from simple glass-on-glass mosaic windows to mixed media, larger pieces and the incorporation of new and more advanced mosaic techniques.
It is my hope that this class, and the way it is presented, will inspire you to make not just one but many mosaics using different materials, bases and tools and techniques!

Here's What You'll Learn In This Course...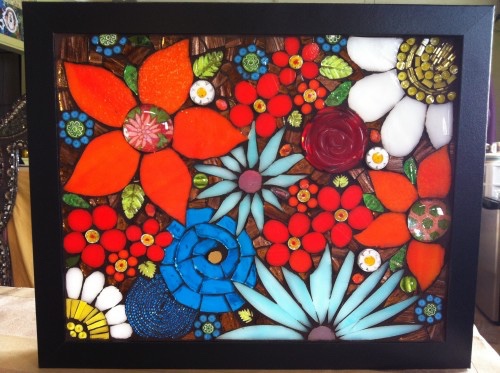 Every flower, every material, every tool, every technique that I use in this glass-on-glass window hanging is shown to you in exquisite detail in this course, including:
How to cut glass and china
How to create gold leaf glass
How to use my "paper-under-glass" technique
How to mosaic your frame
The different techniques I used for each flower: large orange flowers, circle pedal flowers, blue whispy flowers, and more...
This course is designed for a beginner with the tips, resources, materials and techniques to challenge the intermediate or advanced mosaic artist as well!
Whew! That's a lot of information. Are you inspired yet?
Once you sign up you'll have instant, 24/7 unlimited LIFETIME ACCESS to all of the videos and resources above. Just log in and jump right in. All of the videos and resources are right at your fingertips. Some students have emailed me saying they were up all night watching the videos for several nights in a row! You can do that too, but it's not required as you will have unlimited access to all of these materials. So you can watch videos at your own pace, you can jump around to specific techniques, watch in whatever order and at whatever pace you prefer. It's all up to you!
You also receive these bonuses:
There are also two bonuses that come along with this class. These bonuses might be just as valuable – if not more valuable – than the class itself:
Bonus #1: Sharra's Mosaic Secrets – Facebook Group
Members of the Mosaic Window Hanging & Mirror class get exclusive access to Sharra's Mosaic Secrets Facebook group. This is a private group, so only others who have taken or are taking this class will have access. This is a highly interactive group with photos, feedback and discussions that will keep you inspired. People are sharing not only pictures of their work in progress but of their studios, how they set up their spaces, how they store things, where they get certain materials and so on. Being a part of this group recreates the live studio class atmosphere so that you aren't just toiling away on a project all alone but have the access and support of an entire community of mosaic students and artists.
Bonus #2: [Mosaic Windows] Email Course
In addition to all the materials above, you'll also receive an email course that compliments all of this information. Over the first few weeks of your course, you'll receive a series of emails that give you a more depth discussion of the course content. We all learn in different ways. The email course gives you additional structure, another layer of learning, and a different perspective on the material. You might watch a demonstration video one time and get one insight. But, after reading about it in the email course, you might pick up something entirely new! I want you to get as much out of this course as possible and that's why I have added all of this extra material to help you succeed!
Bonus #3: Anytime, Anywhere, From Any Device, At Your Own Pace
Once you register for this class you'll have access to it at anytime – day or night – on any device – your phone, your tablet or your PC – anywhere that you have online access. And you have lifetime access so you can go at whatever pace you want and go through the course as many times as you want.
Here's how you register:
By registering for this class you'll receive unlimited lifetime access to the Mosaic Window Hanging & Mirror Class. The price for this class is $150. As soon as you sign up you'll have instant access to all of my mosaic videos and resources. Shortly after you sign up you'll receive access to the Facebook group and start receiving the Mosaic Window Hanging & Mirror Class email course.
You'll be on your way to mosaic mastery in no time!
I'm really excited to be offering this class and hope to see you in our Facebook group posting pictures of what you've done!
Sincerely,
Sharra Frank
P.S. If you have any questions feel free to contact email me at [email protected]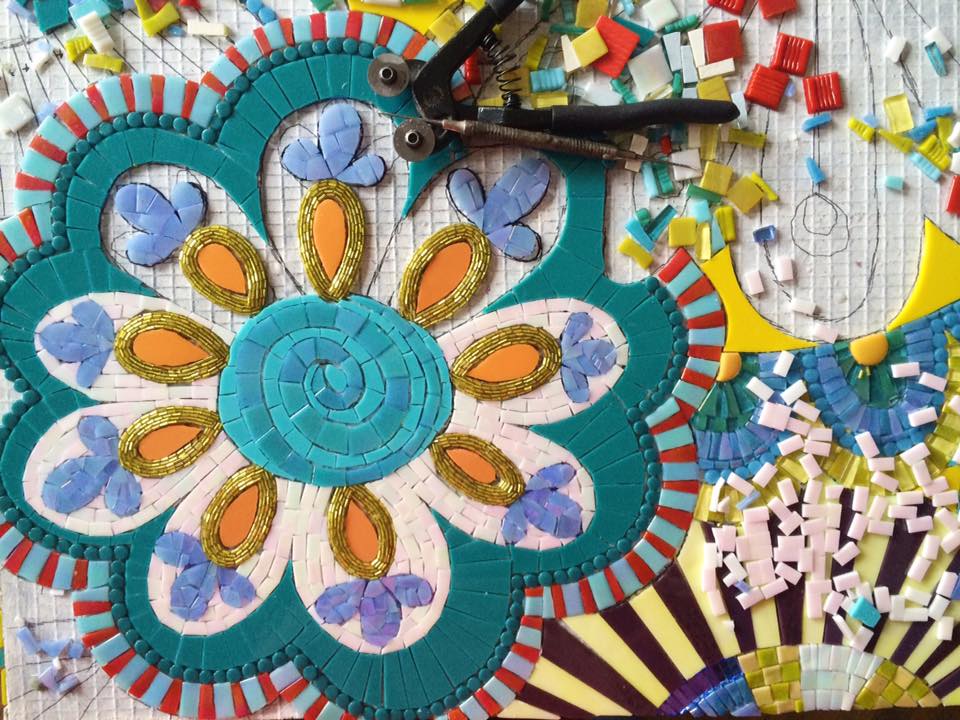 "Hi Sharra, I am excited to be registered for your mosaic window class–nothing like it exists in rural Alaska!"
– Dedra Johnson, Alaska